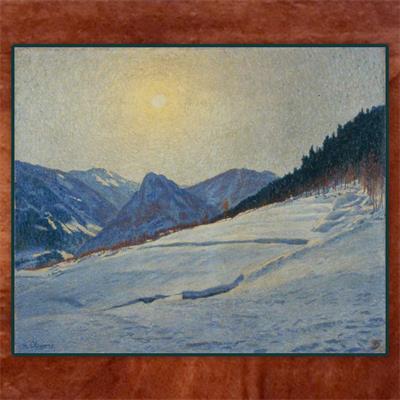 The painting was commissioned to Matteo Olivero (Acceglio/CN, 1879 - Verzuolo/CN, 1932) in 1919 by Euclide Milano, who intended to make it the  core of the collection of modern art of the  Museum and wanted a " snow landscape ", a popular subject "with a background of shimmering and iridescent mountains". The acquaintance between the two men dated back to their studies in Turin; in the brochure  that the founder of the Museum dedicated in 1926 to Olivero, who was defined as the  "peintre de la neige", the work is considered an admirable example of his art as a pointillist painter.
It is in fact one of its typical snowy mountain landscapes in which  the attention in capturing the effect of the sparkling light of the sun on the snow is clear. For his work the author has reused a canvas already painted with a farmer walking along a country road, still visible on the back. The work bears witness, like many others, to the artist's great love for the mountain, a place of his origins that is always present, and at the same time to the recurring search for light, a symbol of immateriality and the ideal fusion between man and nature.
The painting was exhibited as part of the exhibition dedicated to Matteo Olivero, organized in 2019 by the Accademia Albertina in Turin and set up in various locations, an opportunity for an in-depth study of archival documents as well as a wide overview of its production, not only pointillist, including landscapes, portraits and self-portraits.
Olivero's works are present, as well as in private collections, in the Pinacoteca di Saluzzo, city where the painter moved in 1906, thanks to its purchase by the municipality two years after his tragic death.